Seaweed Salad Recipe
~~~

(with
Miso-Sesame Dressing)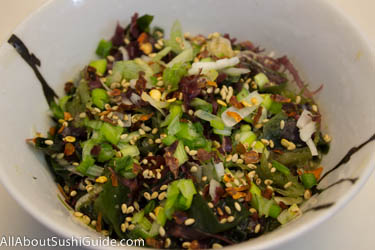 If you are like me, you enjoy having a little seaweed salad from time to time when you go to the sushi bar. 
I liked it so much in fact that I finally decided to try to make it at home. It ended up being not as easy to throw together as I was expecting it to be. 
For one, every type of dried seaweed that I ordered wasn't the same kind that I was use to getting in the seaweed salad at the sushi bar. This was due mainly to the fact that the seaweed salad usually served in sushi restaurants in the U.S. are predominantly made of seaweed stems (called kuki wakame).
I found that you could find frozen variations of this in your local Japanese store but pretty much nothing else. I didn't want hydrated and frozen seaweed, I wanted dried seaweed so I could store it forever in my pantry and make it whenever I wanted to.
So I started really looking hard and ordering all different kinds of dried seaweed. I'm kind of hard-headed like that. Nobody's going to keep me from making something that I want to make at home :-)
The "Dried Seaweed Mix" in the picture below (and the one I have a product link to) was the one that I liked the best out of all of them.
I think it's even be better than the variety you normally get in your run-of-the-mill commercial seaweed salad that you find in your local sushi bar.
It will at least be healthier, as the pre-made seaweed salad is normally loaded with MSG. And it'll be a little prettier too with the white, purple and dark green blends of seaweed in it instead of just the green only.

As many of you may already be aware, I always try to talk to my 80 year old Japanese mother about these recipes to try to get her old school take on them too.

It just so happens that despite the fact that everybody else says that seaweed salad is only popular in the U.S. or that they don't eat it in Japan, when I asked my mother about it she went right into telling me how she makes it...
So what's up with that? And she hasn't actually lived in Japan for over 45 years...

Well anyway, her "additions" or "extra" ingredients that she adds that are over and above what most other seaweed salad recipe's have in them are what I think makes this one one of the best seaweed salads I think I have ever had.
Her little extra's are:
the ground white sesame seeds;

squeezing the ginger juice into the salad at the end;


the mirin;

the instant dashi granules;


and the miso...
don't skip any of them... they are what I think makes this recipe special.
Oh, and she also said that it is "Ok" to add very thinly sliced Japanese or English cucumbers to this salad too... it makes for a good lunch with green tea and small bowl of rice... (no wonder the Japanese are so thin and healthy... :-)

Anyway, give this recipe a try if you're a tried and true seaweed salad addict and you are ready to take your obsession to the next level by  making it at home.
I think you'll like it. Or at least I hope you do...
Seaweed Salad Recipe (with Miso-Sesame Dressing)
Ingredients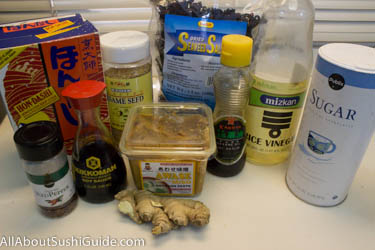 Most of these ingredients should be available in your local Japanese grocery store or oriental market. If not, I have included the ones that I buy that I could also find on Amazon below for your convenience. 
1/2 ounce (about 3/4 cup pressed down) Dried Seaweed Mix

1 Tbsp Rice Vinegar
1 Tbsp Soy Sauce
1 tsp Mirin (or Sake if you don't have Mirin)
1 tsp Sesame Oil
1 Tbsp Sugar
1 Tbsp Awase Miso (a mixture of white and red miso or 1/2 Tbsp white miso + 1/2 Tbsp red miso)
1/4 tsp instant Dashi granules

1 tsp grated Ginger (squeeze ginger root for juice into salad too at the end for extra flavor if you'd like)

1 tsp Crushed White Sesame Sesame Seeds
Thinly sliced Japanese or English Cucumber (optional)

To Top Seaweed Salad:
1 Green Onion (minced)
Sprinkle Red Pepper Flakes
Sprinkle White Roasted Sesame Seeds
Preparation
1. Soak 1/2 ounce of dried seaweed in a bowl of cold water for 5 to 10 minutes.
While the seaweed is soaking, let's make the dressing... 
2. Grate 1 tsp of ginger. Crush enough sesame seeds to make 1 tsp. 
3. Combine soy sauce, rice vinegar, sesame oil, mirin, sugar, miso, ground sesame, instant dashi and ginger. Whisk well.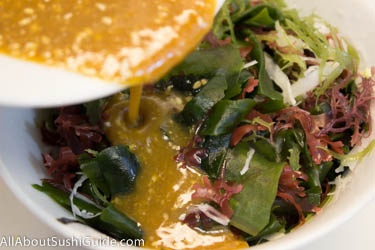 4. Drain and squeeze out excess water from re-hydrated seaweed.
5. Squeeze some juice out of the whole ginger root you grated earlier over the salad.
6. Add thinly sliced cucumber if desired (optional).

7. Add the Miso Sesame Dressing and mix well.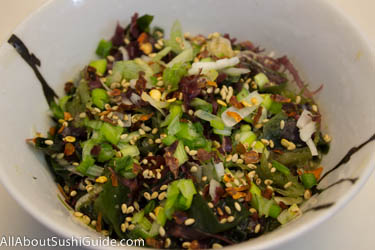 5. Top with minced green onions and sprinkle with whole white sesame seeds and red pepper flakes.
Enjoy!
If you liked this recipe, please leave a comment below and of course, "like" this page too to let others know about it.
Thanks!
                                           Like this Page?