Learn everything you ever wanted to know about all the different Types of Sushi...
(but were afraid to ask!)
Trying to explain what all of the different types of sushi are may become confusing without a plan. So perhaps the best way to tackle this topic is to break it down logically; the way I learned it when I was growing up.
I was confused at first when my mother (who is Japanese) tried to explain it to me. Now, of course I was a kid, but I don't think I can keep leaning on that crutch as an excuse forever... :-)
Anyway, as I watched her make different types of sushi and later made sushi with her, she told me what each one was (again...and again...and again...you get the picture...) and slowly I started to learn what the different types of sushi were.
The key I think was being able to associate the name with a visual reference. I'll try to do the same here. 
Before we get into that though, let's clear up some confusion and talk about...
The Difference between Sushi and Sashimi
Many people unknowingly use the terms "Sushi" and "Sashimi" interchangeably, while they are actually two totally distinct and separate items.
Let's take Sashimi first since it will be easier to define what sushi is once we understand sashimi clearly. 
So What Exactly is Sashimi?

Technically, the word sashimi means "pierced body", where sashi = (pierced,stuck) and mi = (body, meat). Integrated into the english language it is often used to refer to uncooked fish preparations.
Generally, Sashimi can be identified or defined as a piece of meat, not necessarily only seafood and not necessarily raw, typically draped over a garnish like daikon (asian white radish shredded into long strands) and possibly accompanied by one perilla leaf per slice.
Sashimi is often normally served with a dipping sauce like soy sauce with wasabi paste or ponzu sauce (a citrus based sauce made by mixing soy sauce, lemon juice, rice vinegar, dashi, and mirin).
Some common meats served as Sashimi include:

Salmon (Sake)

Squid (Ika)

Shrimp (Ebi)

Tuna (Maguro)

Mackeral (Saba)

Horse Mackeral (Aji)

Octopus (Tako)


Whale Meat (Gei-niku)

Sea Urchin (Uni)

Scallop (Hotate-gai)

Puffer Fish (Fugu)

Yellowtail (Hamachi)

Fatty Tuna (Otoro)

Not Everything called Sashimi is Raw

Take note that while Octopus (a popular Sashimi item in Japan), can be found and served raw, it is normally served cooked (boiled) due to its chewy nature.  
And Tataki is a Sashimi that is quickly and lightly seared on the outside -- in effect cooking the outside of it, while still leaving the inside raw. It is then briefly marinated in vinegar, thinly sliced and seasoned with ginger which is ground or pounded into a paste.
So while the majority of Sashimi items are served entirely raw, there are a few that are not.

Sashimi is more than just Seafood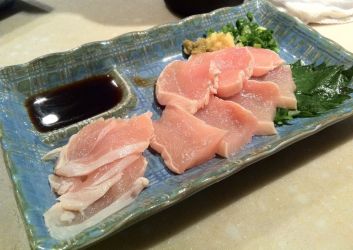 Despite what some might think, Sashimi is not just seafood. There is a Chicken Sashimi called Toriwasa (see image above), which is considered a delicacy by some in Japan, and also a Horse Sashimi called Basashi.
Got a firm grasp on what Sashimi is now?
Clear as mud?
If not, just think meat with no Sushi Rice.

So...What is Sushi then?
Glad you asked, Grasshopper...
Simply put, Sushi is any dish that is made with vinegared sushi rice.
Well, that wasn't so tough!! I can hear you say...
Not so fast Tonto. 
Now we are back to our original question about what exactly the different types of sushi are.

The Different Types of Sushi

Quickly, a broad stroke of the different types of Sushi are (we will cover them in more detail on their own separate pages since they are all so interesting and fun to talk about...)

But overall, Maki Sushi comes in 5 different kinds of rolls:
Above, from Left to Right (click on link below for more info on that particular roll):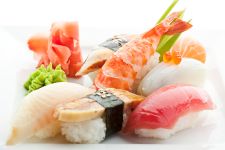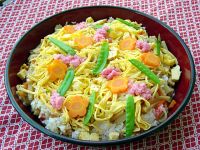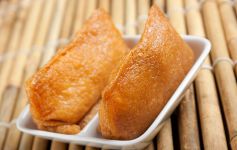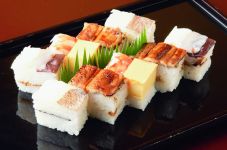 Well, that's about it. Our discussion of all the different types of sushi has come to a close. I hope the information was helpful to you and that all of your questions have  been answered.
If not, comment below and let me know!
                                           Like this Page?