Oshi Sushi
Beautiful, Decorative and Creative pieces of pressed Mini Sushi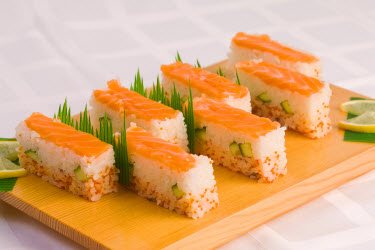 Oshi Sushi or Oshizushi is a type of sushi from Osaka, a part of the Kansai region. It means "pressed sushi" or is also called "box sushi".
This is one of the oldest forms of sushi and stems from the ancient method of preserving fish by packing it tightly in boxes with fermented rice.
Today, pressed sushi made with sushi rice and mackerel is one of the most popular forms of take out food bought at airports by Japanese travelers.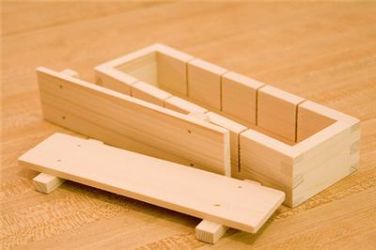 A wooden mold, called a oshibako is used to make this form of sushi. 
Traditional molds are made out of wood, mainly cypress or cedar, similar to that used for the Japanese sushi rice mixing tub (or Hangiri). Cheaper variations are usually made out of pine.
The box typically comes in three parts: The rectangular box part which consist of the walls, the bottom and the top. 
Before first time use, it is best to "season" the box by submerging it in a 1 to 4 parts mixture of rice vinegar and water, allowing it to soak overnight. The next day it should be placed in a dish rack and left to dry completely.
Before each use from then on, the oshibako should either be soaked in water for 20 to 30 minutes to help prevent the rice from sticking, or it can be lined with plastic wrap. 
There are now plastic molds available which are convenient and easier to clean.
The Oshibako is used by alternating layers of sushi rice, condiments, and toppings which are then pressed with a wooden top in between each layer. The final layer of toppings is pressed and then the compact sushi block is sliced using the grooves visible in the sides of the box above.
Afterwich the sushi is pushed out of the bottom of the mold and given its final slices before serving.

Visit our Oshi Sushi Recipe page if you want to learn how to make this very unique type of sushi. 
                                           Like this Page?