Easy Sushi Making Kit
An Excellent Kit with the Equipment and Ingredients you will need to Insure your First Sushi Making Experience will be Successful!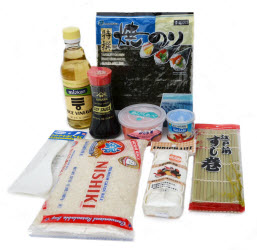 Type of Kit: Traditional
Price Range: Around $46.00 dollars
As far as complete traditional sushi making kits go, the easy sushi making kit is one of the nicest. Everything you will need to make sushi as authentically as possible is included.
This would be the kit I would recommend getting if you want to get started in sushi making quickly without having to gather all of the ingredients on your own and if you want to make the most authentic sushi rice possible from a kit.
Every item included in it is a high quality product from Japan making it very authentic. And this fact also helps to insure that your sushi is going to taste as good as it possibly can.
It has a good Japanese sushi mat for making your rolls, and also a Nigiri sushi mold to make the rectangular shaped sushi which is nice if you don't want to form those by hand.

The Easy Sushi Making kit contains:
Nishiki Premium Sushi Rice

TakaokayaYaki Nori Toasted Seaweed Sheets

Mizkan Premium Rice Vinegar

Yamasa Soy Sauce

Sushi Ginger

Powdered Horseradish (Imitation Wasabi)

Rice Paddle

Sushi Rolling Mat

Nigiri Sushi Mold

 
This is the best "authentic" traditional kit that I have seen. It will make excellent sushi due to its use of quality Japanese products.  It will also give you a good shopping list for the kind of authentic products you will need to replenish with at your local grocery or Japanese store when you run out. 
The Nishiki is a good quality sushi rice that I have personally seen in many american grocery stores. Mizkan Rice Vinegar that is included is well known high quality brand from Japan. The ginger is also from Japan.
The wasabi is powdered horseradish and not real wasabi, but 99% of the wasabi eaten by almost everybody nowadays is the powdered horseradish. It is somewhat difficult to get real wasabi.

If you want, you can write down the brands of the products listed above or the picture and try to pick them up on your own at your favorite local Japanese grocery, or you can get the easy sushi making kit here at amazon.
Recommendation: This sushi making kit is a definite buy.
                                           Like this Page?