Ginger Soy Sauce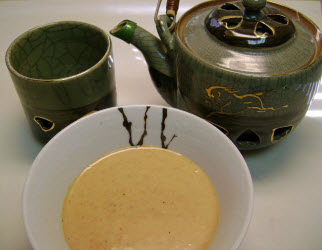 This ginger soy sauce is perfect in salads and is great with seafood. Excellent with tempura. Mind blowing with a seasoning encrusted seared ahi tuna.
I have been experimenting with this recipe for a while trying to get it just right. The initial reason that I started working on this was to perfect a dipping sauce for seared ahi tuna. That along with a wedge of Romaine or mixed baby greens and you have a combination that is absolutely made in heaven.
When I get a chance (and I did... ) I will put the seared ahi tuna recipe on here too.
There is a tad bit of heat and some spice to this, but I don't think it is too bad because it gets diluted and 'cooled down' some by all of the mayonnaise. Try it as is the first time and then adjust down the heat (red pepper and/or hot sesame oil) and/or the spice (garlic and ginger) to match your tastes in future incarnations if you think is necessary.
I think as it is, you will find yourself sticking your finger in this sauce for just one more taste. I think it is addictive. I should know. I found myself making trips to the refrigerator just to make sure that it tasted as good as I thought I remembered it tasting...
Yeah... I'm kinda messed up...

Try it. And then tell me what you think about it. 
How to make the perfect Ginger Soy Sauce

Ingredients
1 cup of good quality Japanese Mayonnaise or a regular mayonnaise  like Helmans
3 Tbsp Seasoned Rice Vinegar
1 Tbsp Soy Sauce
1 Tsp Hot Sesame Oil
3 Tablespoons sugar
1 1/2 Tsp fresh minced garlic
1 1/2 Tsp fresh minced ginger
1 Tsp Red or Cayenne Pepper
1/2 Tsp Black Pepper
Preparation
Mix all ingredients well with wire whisk in a small bowl.
Serve with your favorite seafood, pork, chicken or on a salad. 
Refrigerate unused portion. 
                                           Like this Page?