Rice Paddle (Shamoji)
A rice paddle or Shamoji is a flat paddle that is made of bamboo, wood, or plastic and is used to stir and serve rice. It is also used to mix sushi vinegar in hot rice when making sushi rice.
The Shamoji is usually soaked in water prior to use to keep it from sticking to the rice.
Nowadays a plastic rice paddle is usually provided with a rice cooker when you buy one.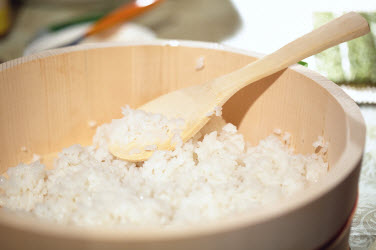 Metal is not used in making rice paddles because it can cut or mash the rice and could damage a hangiri (japanese sushi rice wooden mixing tub-see above).
The Shamoji  was said to have been invented by a monk in Itsukushima, Hiroshima prefecture and has been traditionally passed from generation to generation as a way to symbolize the passing down of family duties.  
The passing of family duties is one thing I can attest to being the oldest in my family with a Japanese mother, but I have yet to get the family Shamoji passed on down to me...
I guess it might be time to have a heart-to-heart with dear old mom...  :-)
You can look at a pretty good selection of rice paddles or Shamoji's on Amazon if you're not getting one passed down to ya... (ignore me... )
                                           Like this Page?