Slicing Smoked Salmon for Sushi
You can follow these steps to prepare your cold smoked salmon for maki rolls or nigiri. 
The above picture shows what you will receive from Catalina OP (offshore products) when you order their sashimi grade cold smoked salmon. To prepare, remove it from the plastic wrap (above right).
Removing the Smoked Salmon Skin
Remove the skin by taking your sashimi knife and slicing it off by working it just under the skin. 
Smoked Salmon slices for Nigiri or Sashimi
For Nigiri or sashimi slice off 1/8 inch slices at a 45 degree angle.
Smoked Salmon slices for Maki Rolls or to be diced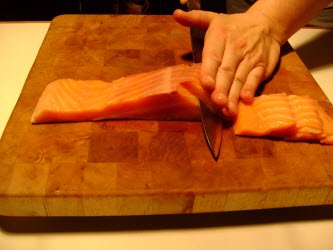 To make pieces to be used for maki sushi or to be diced, make the slices around 3/8 inch thick (above).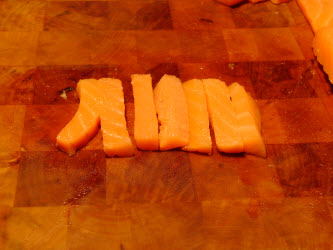 Then slice the 3/8 inch thick pieces 2 or 3 times depending on if you want 3/8 inch match sticks, or 1/2 inch by 3/8 inch pieces (depending on how thick the slices are to begin with.
For Maki sushi (sushi rolls) I usually go for around 3/8 inch matchsticks (above).  
                                           Like this Page?