If you like the regular spicy tuna roll, then this spicy tuna hand roll recipe is a variation that is sure to please.
The thing I like about any kind of temaki roll is that they lend themselves perfectly to interactive social food gatherings because they pretty much have to be assembled and eaten immediately.
The reason for this is that the nori has to be retoasted to crispy freshness just before assembling it so that they crunch and can easily be bitten off.
The following spicy tuna hand roll recipe is one of my favorites. It is a perfect dinner party appetizer or main course, and can be a fun and interactive activity for guests when they are allowed to roll their own.
Just provide the pre-cut and re-toasted nori sheets, a variety of fillings and condiments, demonstrate proper construction and rolling technique and then let the fun begin!
Spicy Tuna Hand Roll Recipe
Ingredients
Sushi Rice (this will yield 4 cups of rice and this recipe 16 rolls. Cut the sushi rice recipe in half if this is going to be too many hand rolls)
(Try to buy a high quality Japanese short grain white rice if you can)
imitation wasabi or real wasabi (optional)
4 oz. Sushi grade Tuna cut in 1/4 inch cubes or minced.
(In the leftmost picture above, we are slicing 1/4 inch slabs of tuna using the "straight cut". In the middle picture, stacking the slabs to make 1/4 inch matchsticks. In the rightmost picture, dicing the matchsticks into 1/4 inch squares. You can also mince the tuna if you prefer).
Sesame-Mayo Spicy Tuna sauce
Supplies
How to make the Sesame-Mayo Spicy Tuna sauce for this Spicy Tuna Hand Roll Recipe
Ingredients (makes enough for 4 hand rolls)
2 Tbsp Japanese or Regular Mayonnaise
2 Tbsp finely minced green onions
2 Tbsp Sriracha Hot Chili Sauce
1 tsp hot sesame oil (rayu), or to taste
Preparation
Combine mayonnaise, green onions, hot chili sauce and hot sesame oil in a bowl and mix well. 
Add the diced tuna to the spicy tuna sauce. Cover and store in refrigerator until you are ready to use in your hand roll.
Preparing the Spicy Tuna Hand Roll
1. Start by taking a 8 x 7 inch sheet of Nori and cut it with scissors into a 4 x 7 sheet or fold the sheet in half on the 8 inch side so that you end up with two 4 x 7 inch sheets.
In the leftmost picture above, I am bending the nori sheet over on the 8 inch side. When the left edge is even, I take my right hand and pinch up and down the right edge.
Next, in the middle picture the nori is folded back the other way to help make the break.
In the rightmost picture, the final separation is made.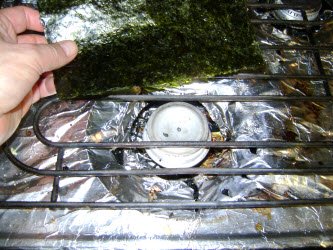 2. Now that you have all of your 4 x 7 sheets ready, we need to retoast them. If you bought good quality sushi nori it should say that it is toasted or roasted. But for a hand roll, the nori has to be reroasted to get it back to being very crispy. That is one of the key requirements for a good hand roll or it will be difficult to bite off the nori.
This is best done with a gas eye on a stove, but it can be done on an electric eye too. You'll get the hang of it, but don't be surprised if you either burn or wrinkle up a few sheets along the way to the point of being unusable. 
Anyway, set your flame or element to the lowest setting. Now pass your nori sheet back and forth over the heat source about 6 or 8 inches above it for 5 to 10 seconds.
You will see and feel the nori kind of "tighten" and "crisp up". 
Set it to the side and do your remaining nori sheets.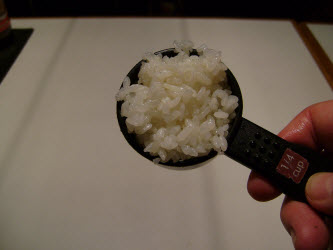 3. Dip a 1/4 cup measure into your vinegared water (1 cup water + 1/4 cup rice vinegar) and shake out the excess. Scoop up a 1/4 cup of sushi rice. 
4. Place the sheet of Nori (shiny side down) in the open left palm (if right handed) and place the sushi rice in the top left corner of the nori sheet.
Dip your right hand in the vinegared water, shake off the excess and then spread the sushi rice toward the center of the nori sheet on the bottom in an oval shape in a right diagonal direction when spreading the rice down. See pictures above.
5. Add a swipe of wasabi or any other desired condiment across the rice if desired.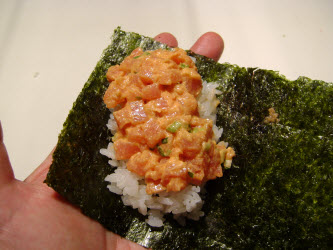 6. Place the ingredients in the center of the rice so that they point to the top left corner of the nori. 
Optionally, you can add some vegetables like cucumber slivers to add crunch to your hand roll...or avocado to add rich creaminess...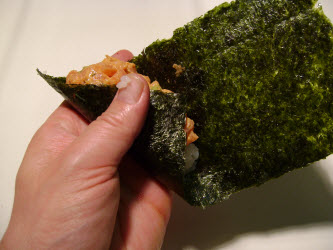 7. Now, lift the lower left corner of the sheet and pull toward the top right corner while at the same time rolling it over.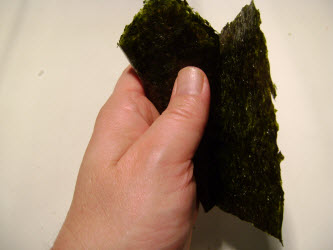 8. Continue rolling until a cone shape is formed. Eat quickly to enjoy the crispness of the freshly toasted nori!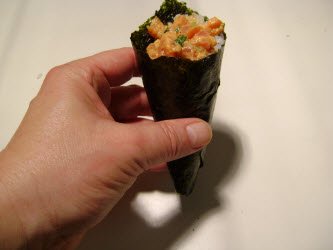 And that's all there is to making this spicy tuna hand roll recipe!