Sushi Mat or Makisu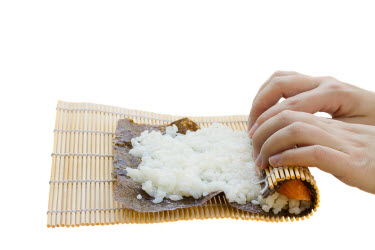 A sushi mat or Makisu is a mat made from thin strips of bamboo woven with cotton string and is commonly used to make a type of sushi called Makizushi. The bamboo strips can be made with flat slats, which are usually green on one side, or with small round bamboo sticks (in the picture above).
To make Makizushi, you usually want to get an all purpose mat that normally measures 9.5 x 9.5 inches. In most situations, the mat with the smaller bamboo sticks is used to make the thin rolls (or hosomaki) and the one with the flat slats (in the left and right pictures above) is used to make bigger rolls up to and including the biggest which is futomaki. 
I personally prefer to use the one with the flat slats for all of my rolls. I don't really like the ones with the smaller bamboo sticks. But that's me. 
If you are looking for one, they have a good selection of mats or Makisu's at Amazon.
There is also a variation of the sushi mat that came in a sushi making kit that I tested, called the Magic Sushi Making Kit. The one in that kit is made out of some thick plastic or vinyl and I was quite impressed with it. Take a look at that review if you are looking for sushi mat options. 
After you have used the mat, spray it with hot water or water with a little detergent in it if needed and scrub it down with a brush. Rinse and dry it thoroughly, or it may become moldy.
And remember --- never put it in the dishwasher!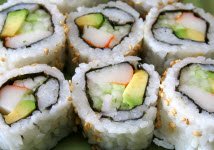 As an alternative, you can wrap the makisu in plastic wrap or put it in a cheap plastic storage bag and then remove it after you use it. This is actually very common to do when making uramaki, which is a type of sushi roll where the rice is on the outside of the roll (see picture above).
                                           Like this Page?