Zojirushi Rice Cooker
~~~

Are You Considering a
Zojirushi but Wondering if it is any Good? 
~~~
Maybe You're Confused by all of the Styles, Models, Features and Functions that are available,  What they do for you and whether you'll need ANY or ALL of them?
~~~
Well, Stick around and we'll Try to Clear Things up for Ya!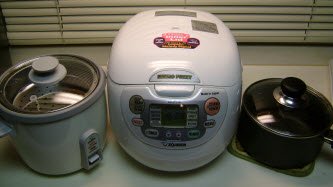 A Zojirushi rice cooker is what I would consider the Cadillac of rice cookers. The best of the breed. Models range from simple one-button cookers to serious rice cooking machines that look like you might need a PhD in electronics to operate... (Ok, maybe their not that hard to operate :-)

I personally have two Zojirushi's. A simple one button one (NHS-10 6 cup) on the left above, and a fancier one (NS-ZCC18) in the middle above that uses the "fuzzy logic" technology.
(do you have a favorite zojirushi cooker? tell us about it here)
And of course, let's not leave out the lonely little pot on the right that, though not the subject of this page, has been a loyal and good rice cooking friend over the years...
Do You Need a Rice Cooker to Cook Good Rice?

While we're at it, let's not fail to mention that a zojirushi rice cooker, however simple or fancy, is NOT required to cook excellent sushi rice. As a matter of fact, on my sushi rice recipe page I demonstrate making sushi rice using the trusty old pot in the picture above on the right.
Reason is, I don't want people to think that you have to invest in a zojirushi rice cooker to make good sushi rice. You don't have to. Just a plain old pot will do...
But I do have to admit that most days now when I make sushi rice I use the fancy one in the middle above. I just love that unit.
And rice cookers can make the job a little easier by making it more consistent especially when you are switching from cooking different kinds of rice like short grain white, long grain white, short grain semi-brown or just plain old brown rice to name a few.
If you have decided that you are wanting a premium quality rice cooker and Zojirushi is the one you're considering, then we'll try to clear the fog and help you focus on a unit that either best fits your budget, has all the bells and whistles that you are looking for... or both.
There's one other type of person who might be here too... because I think it was me when I started looking at getting a Zojirushi rice cooker...
That person was a little confused by the difference between conventional, neuro fuzzy, micom, induction heating and induction heating pressure systems and what you really need for the type of rice you'll be cooking.
Either way, we'll try to point you in the right direction.
Let's start out with the little chart below that I created for you. We'll be referencing that quite a bit as we move along...
But first, let's go over what might be the main limiting factor for some... Price...

If Price is an Issue...

If price will be the main deciding factor for which Zojirushi rice cooker you end up buying rather than what bells, whistles and features are available, then concentrate on the units below that fit within your price range.
Hopefully the price won't limit you from getting the features you may be looking for.
Know that typically in the "10/18" below, the 10 is usually the 5 1/2 cup cooker and the 18 is the 10 cup cooker. And that is not U.S. cups either but rather the measuring cup size that comes with the unit which is around 6 oz instead of the normal U.S. cup 8 oz. 
And just so you know, usually (or at least for premium short grain white rice) the cooked amount ends up being roughly double the measured amount. In other words, if you measure 1 cup of rice, you should get about 2 cups of cooked rice... moving on...

If your price range is below the price for the zojirushi rice cooker on the far right in the chart below, the NHS-10 6 cup (like the one I own) is about half that price at around $57.00 and can be purchased at amazon here. That should give you even more lower priced options.
Let's Learn About the Main Things Differentiating the Zojirushi Rice Cooker (s) below:
Conventional, Micom, Induction Heating, and Pressurized System
(prices from Amazon and approximate as of 5/2014)


NP-NVC10/18


PriceRange

$457-487


NP-HBC10/18


PriceRange

$249-268

NS-ZCC10/18


PriceRange

$170-180

NS-PC10/18


PriceRange

$90-107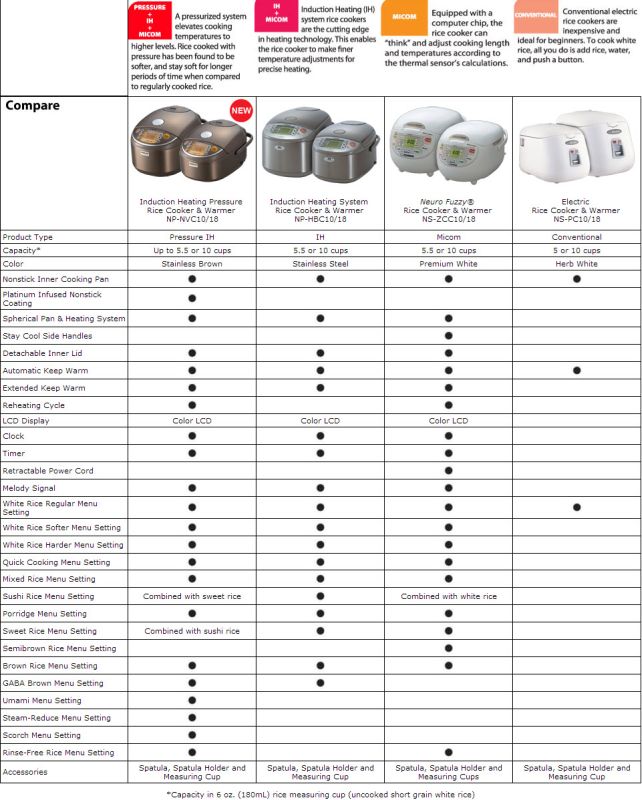 Conventional-Price Range $50-$107
Conventional units (far right in the chart above) like the NS-PC10/18 and NHS-10 6 cup are the lowest priced and simplest of the Zojirushi rice cooker (s).

The heating source is located in the bottom and the unit turns on and off in reaction to temperature only. As you will see later, this is the most basic of cooking control methods and indicators. Some units may have a keep warm function also.

Cooking with a conventional can be best compared to cooking your rice in a pot.

What you will have to Handle on your own with a Conventional Zojirushi Rice Cooker...
Rice Pre-soaking. As an example, to cook short grain white rice for sushi with either a pot or conventional rice cooker one has to presoak the rice for 15-20 minutes (or until it turns "white") before turning the unit on to actually cook for best results. The fancier units discussed later will take this into consideration for you so you don't have to worry about it.

Steaming After Cooking. For the best cooked short grain white rice you need to "steam" the rice for about 15 minutes after the unit turns off. Some conventional units will switch to a "warm" setting and recommend letting the rice "steam" on this setting for a recommended period of time. Either way, both are up to you to monitor and be diligent about to produce the best results. The more advanced rice cookers below typically take this into consideration for you so you don't have to worry about it.

What the Conventional Zojirushi rice cooker is not capable of adjusting for You...

Different types of Rice. Different types of rice have different cooking requirements. Brown rice cooks way different from premium short grain white rice. Brown rice has the hull or chaff removed but still has the bran and the germ attached making it harder to penetrate and less glutinous while the short grain white rice has all of the bran and germ polished off exposing the internal starch core. As you have probably already guessed it takes more to penetrate the outer portion of the brown rice compared to white rice making them require different cooking setting for the best results. The conventional rice cooker cannot compensate for this like the more advanced units below can.

Is a Conventional Zojirushi rice cooker (NS-PC10/18 and NHS-10 6 cup) the right one for You?
Yes, if around $100.00 is the maximum you can spend

Yes, if you are willing to take responsibility for pre-soaking the rice before and steaming it afterwards yourself

Yes, if you don't care that the conventional rice cooker doesn't adjust cooking for different types of rice and will be satisfied with the varying results between vastly different rice types

(prices from Amazon and approximate as of 5/2014)


NP-NVC10/18


PriceRange

$457-487


NP-HBC10/18


PriceRange

$249-268

NS-ZCC10/18


PriceRange

$170-180

NS-PC10/18


PriceRange

$90-107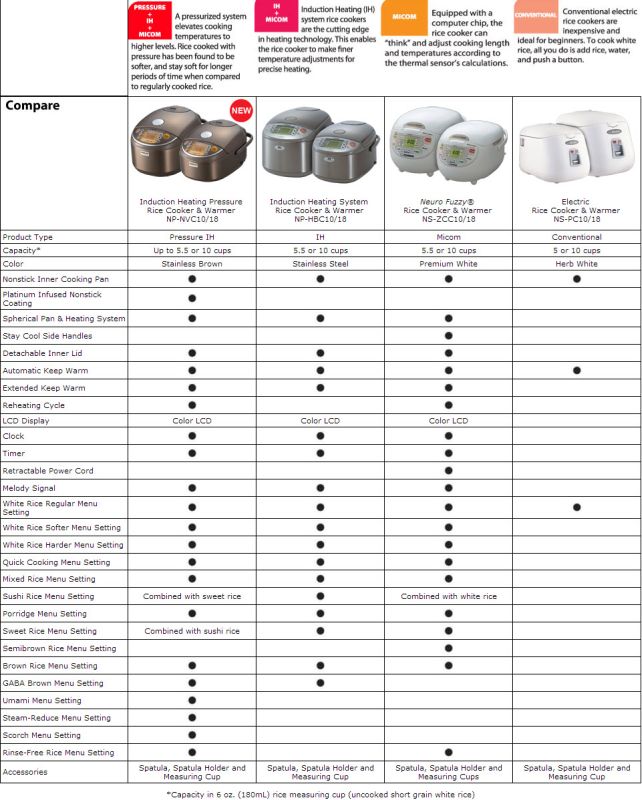 Micom-Price Range $170-$180
The micom units NS-ZCC10/18, which Zojirushi also labels as "Neuro Fuzzy" uses advanced microchip technology to allow the rice cooker to "think" for itself and make adjustments to temperature and heating time during cooking.
It does this by taking into consideration the type of rice you are cooking to adjust for the initial pre-soaking of the raw hard rice grains before cooking as well as the final "wait & steaming" period required at the end to cook the best rice possible.
This is the unit that I have and use to cook my rice for sushi along with many other types rice and it does a great job with anything you put it in... it truly is "plug and play"...
Since you are probably trying to figure out which one of these between the different types of units you need or will be happy with, I'm comparing them and telling you what each has or doesn't have compared to each other. I hope that helps...
And do keep in mind that ALL of the following units, Micom, IH+Micom and Pressure+IH+Micom have this "Neuro Fuzzy" advanced microchip technology.
What the NS-ZCC10/18 Micom units don't have that the more expensive IH units do have...
Platinum Infused Non-stick Coating.


According to Zojirushi, 

the platinum infused nonstick inner cooking pan changes the water quality to help cook sweeter tasting rice.

To accomplish this, the platinum is burnt onto ceramic particles which is then mixed into the nonstick coating and then attached to the pan. 

Through research Zojirushi discovered that platinum alkalizes water. Alkaline water breaks down the protein on the surface of the rice grain making it easier for the water to penetrate the grain more easily.

This enhanced gelatinization brings out the sweetness of rice making better tasting rice.

GABA Brown Menu Setting.

                                                     There are 2 menu selections for brown rice. One called "Brown Rice" which is to cook brown rice the regular way and the "GABA Brown Rice" menu settings. The GABA option "activates" brown rice for increased nutritional value. What this means is, before actually cooking the rice the temperature in the inner cooking pan is kept at around 104 F for approximately 2 hours before the actual cooking will begin. So whereas the cooking time for "regular" brown rice may be around 1 hour on the GABA setting it will take around 3 hrs and 20 minutes to complete.

Why do this?

Supposedly by activating brown rice GABA (gamma-aminobutyric acid), a naturally occurring nutrient in brown rice increases to 150% of the amount contained in non-activated brown rice.

Why does this matter?

GABA is a type of amino acid said to lower blood pressure and relieve stress.

Umani Menu Setting. This setting soaks the rice before cooking longer than the regular white rice setting. During this extended soaking time, the sugar contained in the rice is slowly released into the water. Once the rice cooker begins to cook the rice, the sugar that was released into the water reattaches itself onto the surface of the rice, making the rice taste sweeter. 
Steam Reduce Menu Setting.

The steam reduce setting reduces steam to 50% of the regular setting. This may result in a rice texture that is slighly harder than regular. 

Scorch Menu Setting.

This setting lightly toasts the bottom of the rice for a crispy texture. 
What the NS-ZCC10/18 Micom units do have that the more expensive IH units don't have...
Stay Cool Side Handles.

You know, I don't understand why the more expensive units don't have this feature. It is nice when you are making sushi rice and have to pull the inner pan out to dump the rice in a hangiri (sushi rice mixing tub) to have these nice little handles to pick it up with. Because I'm telling you... the inner pan

is

hot! 



Reheating Cycle. If you want to "reheat" rice that has been left in the unit and has turned cold or whatever, then can first press the "Keep Warm" button and then press the "Cooking/Reheat" and the cooker will reheat the rice for you in about 5-7 minutes. If you don't press the "Keep Warm" button first, then the cooker will think it needs to cook raw rice using a regular cooking cycle. (This is not available on the NP-HBC 10/18 model but is available on the NP-NVC 10/18 model). This can come in handy if you like to leave rice in the cooker often and need to reheat it quickly again.

Retractable Power Cord. I have this unit and I really do like having this option. Its nice that when you put the rice cooker up you don't have to try to wrap it around the unit, lay it on top or figure out how to keep it out of the way.

Semibrown Rice Menu Setting. This setting menu is not available on the more expensive units although they all have a "Brown Rice Menu". I truly don't know why. It is on this lowest priced micom unit though. Here's where this setting can come in handy. Look at the diagram above. If you are cooking a true 100% non-milled brown rice then you would use the "Brown Rice Menu" settings. That's what that one is for. If you have a "White rice with germ" that you are cooking (which I do very often using Tamaki Haiga shortgrain Rice for a little healthier sushi rice that still has the germ attached) you cook that under the regular "White Rice" or "Sushi Rice" settings. What falls in between here is when you are cooking a brown rice that has been milled; which is called "Semi-brown" Rice. Now, there are different percentages that the grain can be milled which would change the cooking requirements. This milled semi-brown rice is where you would choose the "Semi-brown Rice Menu" settings menu. If you get one of the more expensive units (IH or pressure IH) you will have to use either the "Brown" menu (for 30% milled) or the "White Rice Softer" menu (for 50-70% milled). You will also have to manually add a little less water up to the brown rice water mark (for 30% milled) or a little more water above the white rice water mark (for 50-70% milled). All of this is to compensate for the lack of a semi-brown settings menu on the more expensive IH units. The Semi-brown Rice Menu on the Micom units handles this and has its own water mark on the inner pan making all of this easier... 
Rinse free Rice Menu Setting.

There is a different kind of rice that is suppose to be rinse free available now. It also requires the use of the green cup that comes with the rice cooker not the white cup. This menu setting is for when you use the rinse free rice. I don't use rinse free, as I have been using the type that you have to rinse for 40 years now and I don't want to get use to a different kind of rice because I'm too lazy to rinse it... :-)
Is a Micom "Fuzzy Logic" Zojirushi rice cooker (NS-ZCC10/18) the right one for You?
Yes, if you can afford the $170-$180 dollar price tag but no more


Yes, if you want the rice cooker to do the pre-soaking before and the steaming at the end of the cooking cycle for you

Yes, if there is an option or two that you have to have that is on these units that are not on the more expensive IH units (This is exactly why I bought this unit instead of an IH unit... I wanted the stay cool handles, the retractable cord and especially the semi brown setting menu more than the IH functionality)... but that's me...


Yes, if you don't want or need the other features or bells and whistles of the more expensive IH units (coming next...)
If this sounds like the right one for you, you can get your hands on this unit for a pretty good price here on Amazon. 
(prices from Amazon and approximate as of 5/2014)


NP-NVC10/18


PriceRange

$457-487


NP-HBC10/18


PriceRange

$249-268

NS-ZCC10/18


PriceRange

$170-180

NS-PC10/18


PriceRange

$90-107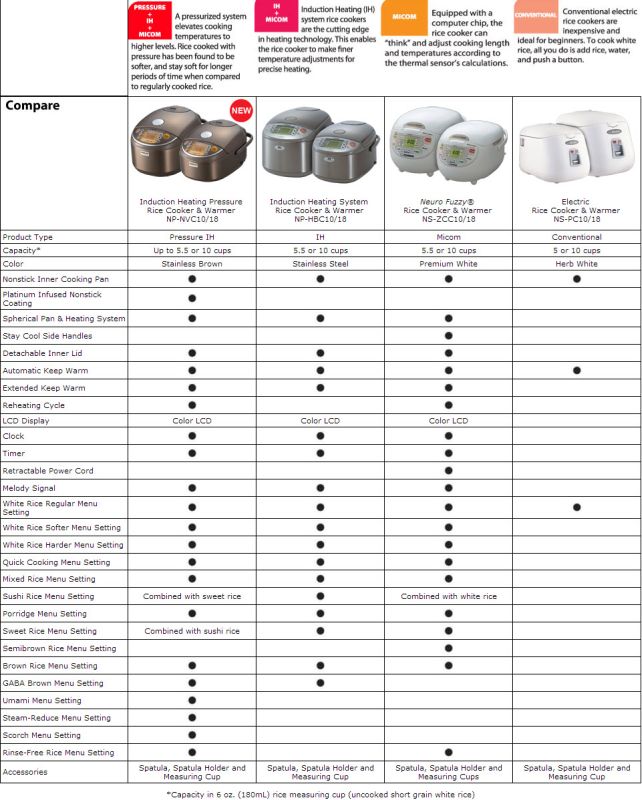 IH+Micom-Price Range $249-$268
Pressure+IH+Micom-Price Range $457-487

I've decided to put these two together: The IH+Micom (NP-HBC10/18)  and Pressure+IH+Micom (NP-NVC10/18) units.
If you looked at the previous section, you know how these units compare to the standard Micom unit (with no Pressure and IH).
Basically here I think you really only need to know what IH (Induction heating is) and what it does and also what  the "Pressure" feature is and what it will do for you.
Since the "Pressure" option comes at a whopping $200 in additional cost, I'm sure that most people will have to be pretty convinced that it will add that much value for them before they will throw in those extra dollars to get it. Well, unless you are independently wealthy... which I'm not :-)
So without further ado, let's get to it.
What is IH (Induction Heating) and What does it do?
Induction heating basically adds another dimension to how the rice is heated. Whereas the heating element is normally located at the bottom of a rice cooker, IH turns the whole inner cooking pan into a heat conductor. This allows for higher, more precise and more uniform cooking temperatures.
Induction heating occurs when a magnetic material enters a magnetic field. This is recreated by passing an electric current through coils located at the bottom of the rice cooker's body. As the special, 2-ply inner cooking pan is placed inside, a magnetic field is created which in turn generates instant heat. The entire cooking pan becomes the heat source, with the ability to cook at higher temperatures, which can be turned on and off instantly for greater control. 
So. Should you get a Zojirushi rice cooker (NP-HBC10/18) with Induction Heating?
Yes, if you can afford the $249-$268 dollar price tag 


Yes, if you want want a rice cooker that heats the whole inner pan instead of heating from just the bottom... for me? it wasn't worth the extra $70... but you might think it is worth it...

Yes, if you don't care that it doesn't have the stay cool handles,  reheating cycle, retractable power cord and the semi brown setting menu available only on the 

NS-ZCC10/18
If induction heating is something that you need, you can get it at Amazon here. 
What is this "Pressure" Option and What does it do?
You ever own a pressure cooker? They've been around for as long as I can remember. Most had the turn and lock lid and the little thingy on top that rolled and popped and spewed a little steam out of the side or bottom so it basically wouldn't explode. It's old technology. 
But it's pretty much new to rice cooking. Look at the diagram below.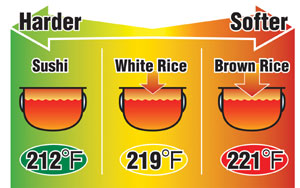 Supposedly, rice cooked with pressure has been found to stay soft for longer periods of time compared to regular cooked rice. As the pressure builds inside the unit while the rice cooks, the boiling point of the water is increased to beyond the normal 212 degrees F. 
Once water is allowed to boil, it can't be heated further; but inside a pressure sealed environment higher temperatures can be reached which allows better penetration of the rice all the way to it's center. 
Should you get a Zojirushi Rice Cooker with the Pressure Option?
Yes, if you can afford the $457-$487 dollar price tag 


Yes, if it is worth it to you to pressure cook your rice. They say it stays "softer longer" and it penetrates the rice better. Is it worth the extra $200 dollars over and above the cost of just a IH unit? Well. Only you can answer that. 

Yes, if you don't care that it doesn't have the stay cool handles,  retractable power cord and the semi brown setting menu available only on the 

NS-ZCC10/18
You can get this unit at Amazon too.
Let's Wrap it up...
So. What do you think?
Was this page helpful? Did it help you narrow down your choice of the right Zojirushi Rice Cooker?
I hope so. Leave a comment below if you'd like.
Or better yet, write your own review page for a Zojirushi you already have. 
Do You Have a Favorite Zojirushi Rice Cooker? Tell Others about it!
Your experiences with your Zojirushi can help others make an educated choice. Your opinion matters! Good or Bad.
What Other Visitors Have Said
Click below to see contributions from other visitors to this page...

                                           Like this Page?