The Joyce Chen Sushi Kit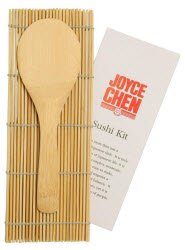 Type of Kit: Traditional
Price Range: Less than 5 dollars
The Joyce Chen Sushi kit is is a very basic starter kit. It contains a Bamboo Sushi rolling mat (Makisu), a Bamboo Rice Paddle, and an instruction booklet with recipes and directions for making your sushi rolls.
This is a good kit to get if you are wanting to try your hand at sushi with a minimum of expense. The instruction booklet contains a sushi rice recipe which is handy. With that and the Sushi Mat and Rice Paddle your basic equipment needs for making sushi have been met. 
You will still have to gather all of your ingredients for making Sushi though. Like good quality Sushi Nori, Sushi Rice, Rice vinegar, Kombu and Sake (if you follow our sushi rice recipe).
If you don't already have all of those starter ingredients and you know that you will have to get them anyway to make any kind of sushi, you might want to take a look at a little "beefier" kit like this Easy Sushi Making Kit or this Sushi Chef Sushi Making Kit. 
When it comes to complete traditional sushi making kits, both of these will do you right. 
With any of the kits above though, you will still have to get all of the meats and vegetables required to make the sushi that you are wanting to make also.
But for under 5 dollars, getting the Sushi Mat and paddle out of the way is a very good value. You can find the Joyce Chen Sushi Kit here at amazon. 
Recommendation: Buy it, but know that I prefer a sushi mat with the wider "slats" better not the bamboo sticks (which is what is in this kit). Only the Easy Sushi Making Kit above has the sushi mat with the wider slats. And here is another sushi mat that has wider slats.
                                           Like this Page?